SOLUTIONS
TIRE RECYCLING LINE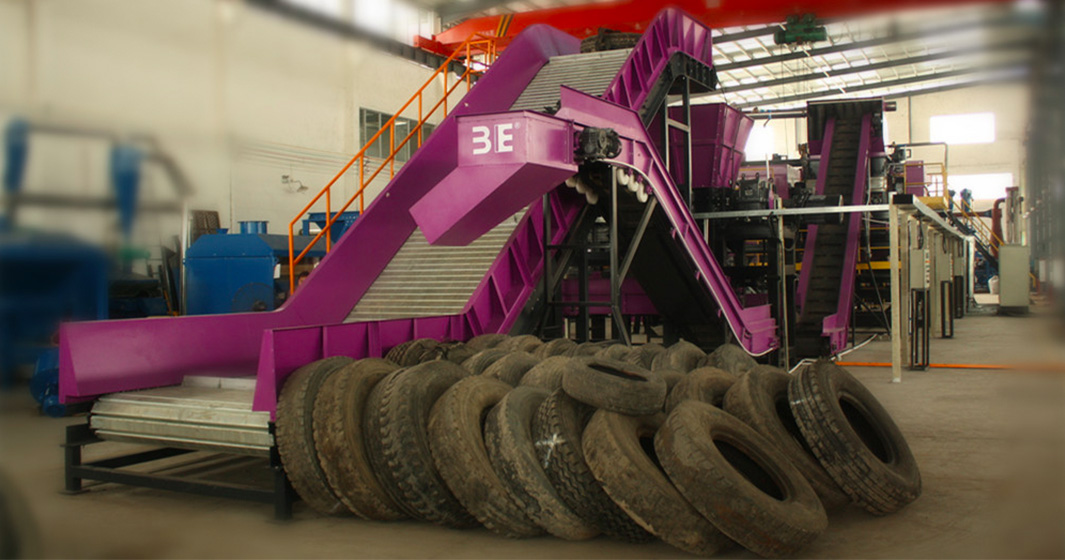 There is increasing pressure from the government, local councils and the public to reduce the levels of waste tire going to landfill or being exported. Significant recycling opportunities exist for investors to profit from the end products derived from tire recycling. There are more and more large volume applications for the rubber, steel and fibre derived from recycling tire which makes tire recycling an attractive opportunity for the recycling industry.
SPECIFICATIONS
MAIN EQUIPMENTSVIDEOS
SYSTEM LAYOUT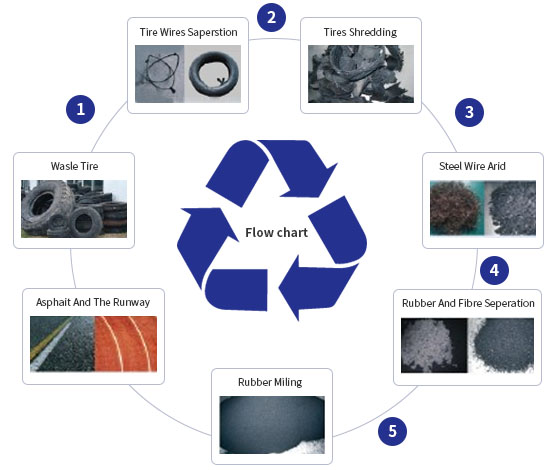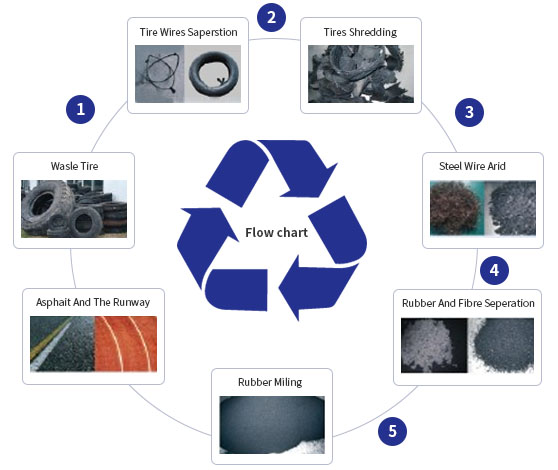 The Rubber Crumbs, Steel and Fiber can be separated automatically
The rubber powder that recycled from the scrap tires are wildly used in the industries. It is mainly used as modified asphalt for high way construction and it is one of the biggest consumption markets for rubber granula.
TDF (50-60 mm)

Rubber Granule (1- 4 mm)

Rubber Powder (30-80 mesh )
EQUIPMENT CHARACTERISTIC
Capacity

200-10000 kg/h

Scope of Application

Diameter of the tire : 400-3000mm , including car tire/ passage tire/truck tire/OTR tire.

Output Size

5-100 mesh, Can be custom-made

Characteristic

● Complete separation:The Rubber Crumbs、Steel and Fibre can be separated automatically.
● Control system:Adopt PLC control system, it is simple and easy to control and maintain. For example, it is only need 4-6 persons to operate a Tire recycling (beads) production line with 3000kg/h capacity.
● Low energy consumption:The installed power of Tire recycling production (beads) line with capacity 3,000kg/h is about 550kw.

Characteristic of blade

● Long life cycle, High utilization, Multiple maintenance.

Equipment required area

About 400 square meter, 6 meter high

Patented

ZL 2010 2 0602082.4/ZL 2010 2 0602159

.8
CASES
Belarus.Waste Tyre Recycling Line

USA.Tyre Recycling Plant

Saudi Arabia.Tire recycling Line

China.TDF Recycling Line

Algeria.Waste Tire Recycling Line

China.Tire Recycling Line

Russia.Old Tire recycling Equipment

Honduras.Tyre Recycling Plant

Indonesia.Tire Recycling Equipment

Brazil.Waste Tire Reycling Line

USA.Tire Recycling Machine

USA.Tire Recycling Line
Crocodile shears

Cut the tires into small pieces to facilitate follow-up machine processing, it can handle the tires with maximum diameter of 3700mm.

Debeader

The debeader is for taking out two pieces of thick steel wires around the tire bead. The main purpose is to protect the blades of the Two shaft shredder and the Crusher.

Size Reduction — Two Shaft Shredder

A powerful twin shaft shredder is used to shred the tyres into smaller pieces (50-200mm) and prepare them for the rubber/steel separation stage.

Rubber/Steel Separation

The second shredding stage is designed to shear the steel from the rubber by using a rasper. Following this stage the rubber, steel and fibre will be in a loose mix ready for further separation.

Rubber Granulation

The rubber is now free from steel and fibre but will not be a uniform size. We use a rubber granulator to determine the size of the granulate that is required. Normally between 2mm – 4mm.

Rubber Milling

You can add further value to your rubber by milling it into rubber powder. Rubber powder has a wider range of applications and as such carries higher rebate values. A milling machine is used to turn the rubber granulate into 40 – 80 mesh rubber powder.
单轴机WT40150碎塑料托盘