SOLUTIONS
CAR SHELL RECYCLING LINE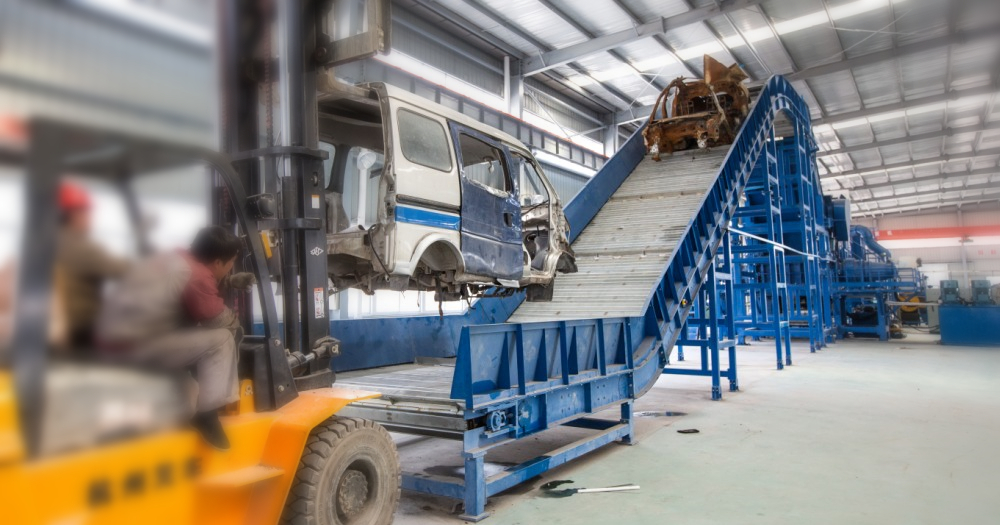 The Car Shell Crushing & Recycling line is developed by Guangzhou 3E Machinery Company. The car shell and wasted metal (such as wasted iron, aluminium and engine casing ect) will be crushed, separated by the recycling line, after that, the wasted metal could be reused easily. 3E Company has already got the national invention patent and utility model patent for this recycling line.
SPECIFICATIONS
MAIN EQUIPMENTSVIDEOS
SYSTEM LAYOUT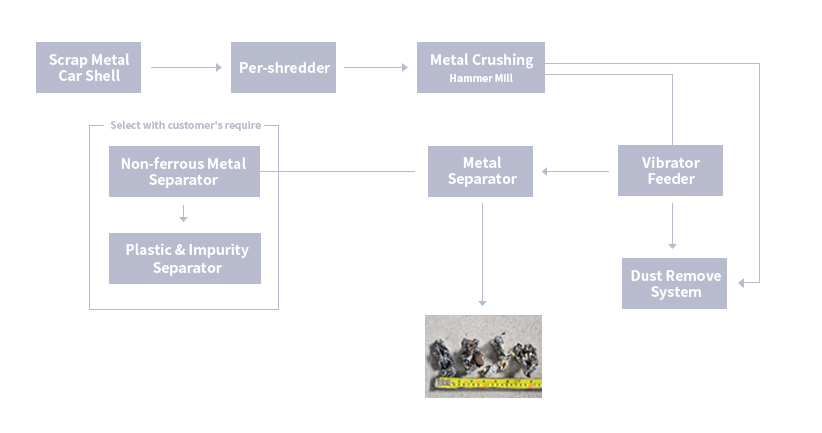 The scrap metal of iron, plastic and other impurities can be separated effectively
Iron

Nonferrous Metal

Plastic

Impurities such as sponge
EQUIPMENT CHARACTERISTIC
Capacity

5—40 sets per hour

Blades

● Various blades. For thin material, it will use VZ type blade which is suitable for coarse crushing and is good for improving the capacity. The service life for welding blade is longer and the maintenance for welding blades is easier.
● When it recycle thicker material, it could use detachable blade which is easy for installation, and more wear-resisting, easier for maintenance.

Characteristic
● Low power consumption, Small and medium-sized processing, Easy maintenance, low maintenance cost. For the line with capacity of 8—12ton/h, the installed power is 400kw, power consumption will be about 30kw/ton each hour.
● It adopts hydraulic motor instead of gearbox for metal shredder, so the torsion has been improved, it make the shredding process to be steady. At the same time, it reduce the probability about Mechanical damage.
● Siemens PLC control ,dynamic real-time monitor.

Patent
● Invention patent: ZL201010624847.9
● Utility model patent: ZL201020701426.7

CASES
产量:10-15 sets/hour

投产时间:2014

China.Old Car Shell Crushing Line

产量:10-15 sets/hour

投产时间:2013

China.Old Car Recycling Line

产量:10-15 sets/hour

投产时间:2014

China.Waste Car Shell Crushing Line

China.Car Shell Recycling Line
Two Shaft Shredder

The first primary shredding is finished by the special heavy metal shredder. 3E's series Two Shaft Shredder has two rotors built into the machine that rotate at low speeds, high torque and low noise. Adopt SIENMENS LOGO microcomputer control system with function of start, stop, automatic reverse sensors to protect the machine against over loading and jamming.

Scrap Metal Crusher

The secondary crushing process is finished by the heavy metal crusher, make the output size suit for the customers requirements. This series metal crusher is easy to operate, efficient and low energy consumption, the accumulation of iron grain density is greater than 1 t/m3.

Magnetic Separator

Through the magnetic, it is ffectively separate the ferrous metal.

Eddy Current Separator

It is consists of the separator main body and control cabinet, the main body is include optional assembly, drive motor, frame and the cover parts, etc. Main use for separate the nonferrous metals such as the copper and the aluminum from the E-Waste, Waste plastic doors and Windows, Old car and so on the industrial solid wastess chips.

Central Control System

The System adopts Siemens PLC control, real-time monitoring effectively, can effectively control the whole process of the production line. It is easy operation in real time.
单轴机WT40150碎塑料托盘